Residential Holiday Lighting
We are proud to offer the highest quality of designs and installation for Charlotte, NC and surrounding area Christmas lights. Here is what we offer and how it works:
We can provide a free lighting design and "mock up" from pictures you send to us. All of the lights, greenery, cords, and timers are leased to you for the season (no need to buy, own, or store anything!). We can change your design year to year if you wish! We can provide any of the following in warm white, multi-color, and solid color lights:
C9 lights (neat straight bulbs) to outline houses
Icicle lights for eaves/peaks
Mini-lights for trees, bushes, and landscape items
Path staked lights for driveways and walkways
Premium lighted wreaths from 2ft to 7ft in diameter!
Premium lighted garland
"App" lights for a truly unique and customizable display
Any necessary maintenance is included (light out, storm, chewed wire, etc. **Note: we do our best to prevent GFCI trips in wet weather but cannot guarantee - please ask us if you have further questions here!)
Takedown in January
Our minimum price is $800. All quotes are "menu/a la carte", to provide options and reflect the exact type of lights and linear feet that will work for your home.
Neighborhood HOA and Business Holiday Lighting
Looking to decorate your neighborhood or business with holiday lights and decor? Christmas Lights by Precision Painting offers the widest range of lights, decor, and option for your project. We are happy to work with HOA's, boards, and businesses to create a magical display during the Christmas season.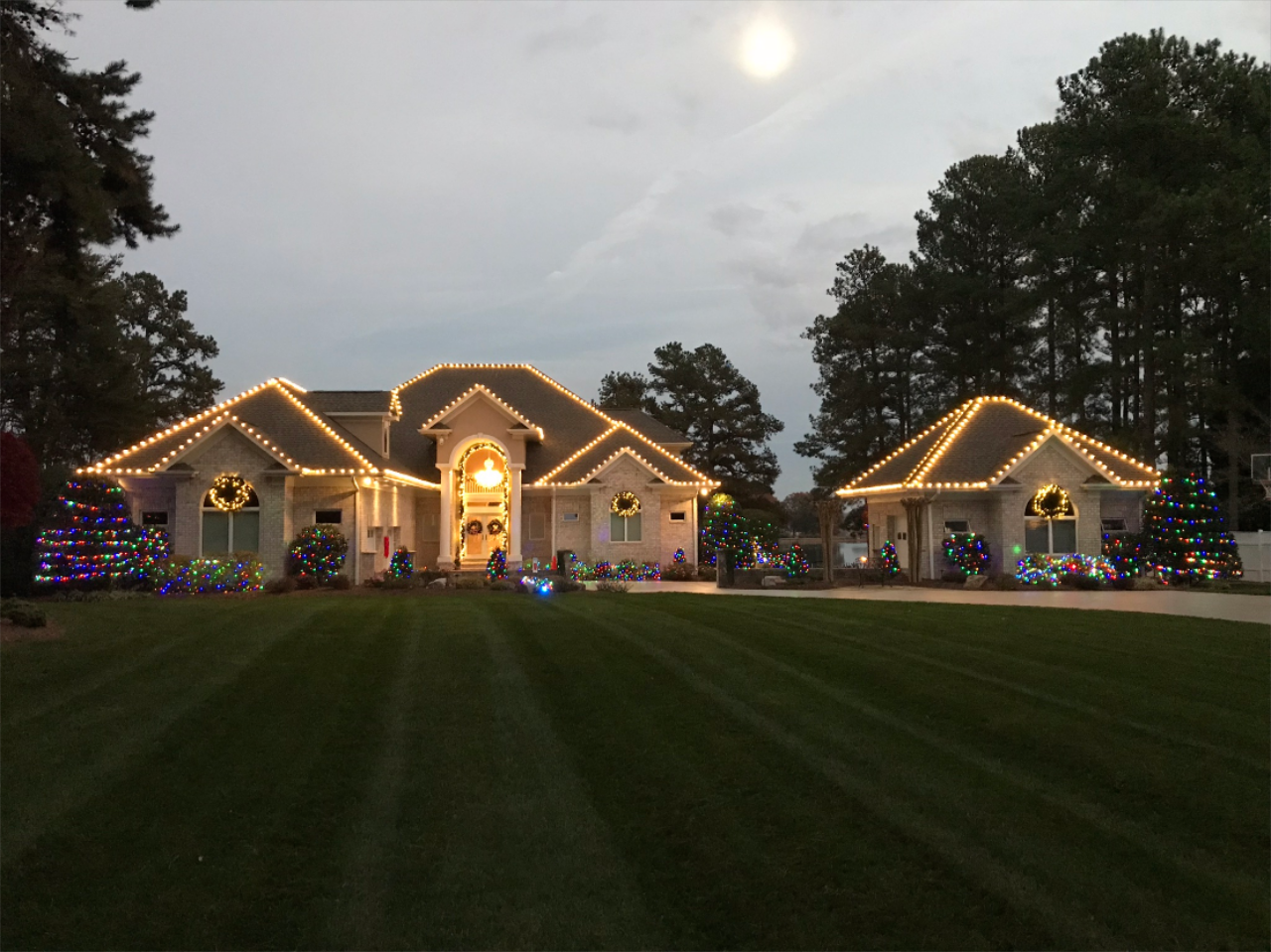 Tree Lighting
Christmas lights by Precision Painting also specializes in decorating trees and landscaping with beautiful lights. We can wrap trees to showcase the branches and canopy, or we can install a "tornado/Christmas tree" style wrap. Love the look of snowflakes or lights balls from tree canopies? We've got you covered! We are proud of our growth, and that our clients continue to work with us year after year for professional, timely, and stunning Christmas lights displays.